Chris Lloyd (Author and Historian) Visits Highnam
Chris Lloyd (Author and Historian) Visits Highnam
26 March 2020 (by admin)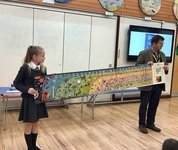 We were delighted to have a special visit from Chris Lloyd from 'What on Earth Books' last week. He took each class on a magical journey through time. He brought along his massive historical timeline and wowed his audiences throughout the day.
"With my class Chris dressed up in a special cloak which had 15 pockets. He shared a variety of objects in the pockets and used them to talk to us about a special time in History."
Commented Alannah in Year 6.