Year 6 Trip to the Bore
Year 6 Trip to the Bore
23 March 2020 (by admin)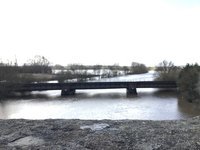 Year 6 Boys Trip to the River Severn Bore
When we went
On Thursday 12th March we came into school with our trainers ready for a walk. We planned to walk down to the River Severn to see the natural phenomenon which is the Severn bore. We left at 9:45am and walked down the cycle path to Over Farm market. We then followed the cycle track round and found a great viewing area on the bridge. Excitedly, we gathered to wait for the bore…
What we did
Before we left school we sat with a partner to make up some questions to ask people that were going to be on the bridge to watch the bore. While we were waiting we began to ask people where they had travelled from, whether they had been to see the bore before and have you surfed on the bore!
Was it good?
When we arrived we talked to a variety of people. We found that some people had travelled as far as from Stourport in the West Midlands. We waited for a while but once 10.25am had been and gone we realized the bore had actually been and due to the extensive flooding the 4* bore was more like a 1* bore! We all saw the water rising but we didn't see a wave or a surfer!
On the way back we headed back to school via Highnam park for break time.
Dog watch
After a long walk we found that we were being accompanied by a golden Labrador. We eventually found out that the dog belonged to Over Farm and had followed us up the cycle path. We helped the dog back to Over Farm and head on our way back to school!
Written by Piers and Jay