Year 6 STEM Morning
Year 6 STEM Morning
23 March 2020 (by admin)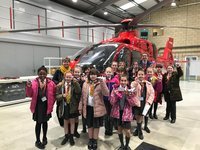 On Thursday 12th March the Year 6 girls were invited to Babcock Aviation at Staverton Airport to celebrate International Women's Day. It was very interesting learning about what they did there and we were made to feel very welcome by al the Babcock employees.
First of all we were met by Jen who had organized the programme for our visit. She explained to us the plan for the day and what Babcock the company were involved in. The site at Staverton is the Babcock Mission Critical Services Training centre and one of the first things we saw was a flight simulator for helicopter pilots.
The first presentation we had was from the lady who heads up the whole team. She spoke inspirationally to us about her responsibility in the business and her career so far.
Next we were split into groups and were given timetables so we knew what we were doing for the morning. Group 1 (my group) went on a tour of the building and even got to see some helicopters close up in the large hanger where helicopters are repaired and serviced.
The majority of helicopters they keep in the hangers are air ambulances some of them are policy helicopters. The mechanics do an amazing job to keep the aircrafts safe and ready for use.
Group two stayed in the conference room and completed two activities. One was using a wind tunnel which demonstrated how planes take off and how air pressure and air resistance works. The other activity was to make specially designed paper aeroplanes – which we got to fly at the end!
After a quick drink and a biscuit we headed back to Reception where we were all given goodie bags, we said thank you to the team, jumped back into the minibus and headed back to school. We'd had such an exciting morning – thank you to the Babcock team at Staverton.