Quality Mark Award for Highnam
Quality Mark Award for Highnam
11 December 2019 (by admin)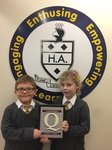 We are delighted to share with you feedback from a recent visit to school. A practising OFSTED inspector has awarded Highnam Academy the Quality Mark for the high quality of provision in English and Maths. Miss Coldrick and the whole staff team have worked extremely hard preparing for the monitoring visit a couple of weeks ago. Ffion and Leo were excellent ambassadors for the school and took Dr Taylor on an informative tour of the academy. She also spoke with the senior leadership team, subject leaders and a local advisor – thank you Mrs Orchard.
Here are some extracts from the report:
The vision and values of Highnam Academy influence every decision made by leaders, governors and staff and they are being embedded in the lives of all children on a daily basis. The school motto, 'Children with Confidence' influences and drives everything. The SLT and subject/phase leaders are clear about the importance of the school vision and values and therefore high-quality and inclusive education is provided to all. Performance is constantly analysed, looking for effective approaches and strategies that will help to maintain high standards in teaching and learning.
Children's work is regularly moderated within school and with other schools, to compare standards of children working towards, at and above the expected level for their age.
Leaders encourage and make time for teachers to work alongside each other to share good practice, both within the school and with other schools.
The curriculum is enriched with outdoor learning opportunities in the schools Forest Area, and cultural and global awareness through links with schools in Europe (through the Erasmus project) and Africa.
Highnam is an outstanding learning environment where every child enjoys learning and makes good progress Assessment data effectively informs planning for teaching and learning. The school's basic skills policy, alongside their curriculum statement, make it clear that the priority is to ensure that every child is taught the basic skills of communication, literacy and mathematics effectively and therefore provided with a solid grounding for lifelong learning.
Thank you to all Highnam staff for providing our pupils with such a high-quality of learning experiences and to parents for supporting English and maths at home through daily reading, times table and number bonds practice.
Finally, thank you to our pupils for their enthusiasm and great work ethic. Keep up the good work!