Croatia Blog - Day 7
Croatia Blog - Day 7
18 October 2019 (by admin)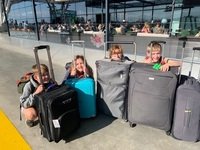 Today we had a treat of a life time it was a lie in till 8 in the morning amazing isn't it. After our treat Ollie got dressed as Jay did his normal thing by telling Ollie what to do about 10mins after that Jan (the boy who hosted us) gave us an emotional goodbye as he had to go to school to enjoy another trip. After that Jay finally got up and got dressed then we made our final packs of bags (which was hard as they gave us all many treats) Jay's football made this extremely difficult as it took up most of his case so much so he had to carry separately shorts, t-shirt and coat. Whilst were talking about his coat we should keep on talking about it firstly it was a £50 Nike puffer jacket, it
Is navy blue and once was held outside the hotel that Miss Gent and Mr Dean stayed in. During the wait for the mini van we had some emotional photos with our host families and then we got on the van. The trip was around 2 hours to the Zagreb airport and once we where their we checked in which was when we go back to Jay's coat story to find out he lost it. He had left it on a chair in a shaded area of the hotel's outside restaurant.
After this everyone had no hope that he would even bring any of his belongings home so we all kept a lookout! A few minutes later, we went through security with our hand luggage, and annoyingly Jay and Ollie's tray had to be checked, Ollie asked why it had to be checked and the security said that there was liquids in the rucksack. It turned out to be water in the bag but not one bottle but 2!
After all this drama we finally got all the way through security Mr Dean saw some bed like chairs that we could lie on, as soon as Jay saw this he ran straight towards them not knowing that he had dropped his wallet After that Ollie found his wallet and kept it to make a joke and on the way in to the plane Ollie asked Jay if he had his wallet on him but of course he didn't as Ollie had it in his bag. As soon as we got on the plane Jay realised he didn't have his wallet and then noticed that Ollie had it the whole time (Thanks Ollie).
Memories and funniest moments:
Julia: Funniest moment was when we walked into the wrong toilets at the restaurant. The best bit was seeing all the wildlife at the national park.
Jay: I thought it was funny when I got locked in the toilet in the Zagreb apartment and when Julia fell off her chair at the restaurant. The best bit about the while trip was being with the host family.
Ellie: Funniest moment was when Jay was devastated when he thought he'd left his phone at the host family's house but then found it at the bottom of his bag after 15 minutes! The best bit was staying with the host families.
Ollie: I thought it was funny when Jay and Julia walked into the staff toilets at one of the restaurants. I really enjoyed the aeroplane flights!
We eventually made it back to Highnam about 6.15pm we had a good journey back. As we arrived back to be greeted by our parents and Miss Coldrick, Mr Dean and Miss Gent told us we'd been great ambassadors for our school and country. We were very proud. We had a great time in Croatia and had some wonderful experiences wish will never be forgotten.
Written by Ellie, Jay, Julia and Ollie