Croatia Blog - Day 3
Croatia Blog - Day 3
14 October 2019 (by admin)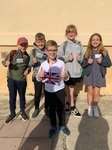 The day began with our pupils with their host families. The boys had enjoyed a trip into Pozega for pizza yesterday evening and got to meet their host's turtle. They also enjoyed cheering on Croatia as they played Wales in a European football match. The girls were meeting all of Marja's family.
We all congregated at school at 9am to have the official Erasmus Project welcome from our host school. We had messages from the headteacher and the deputy mayor. After we enjoyed dance, music and drama as the pupils from Croatia shared their talents with us.
After a short break we all headed on a tour of the school. There are more than 550 pupils who attend the school and it also has a special school attached to it. We got to join in a geography lesson, science lesson and met a number of the staff and pupils.
After play we met in a second floor classroom and each country shared a presentation, led by the pupils, all about a cultural city near to the our schools. Ellie, Julia, Oliver and Jay did a great job sharing all about Oxford. We shared about the architecture, the boat race, the university, the famous authors and the museums you can visit. Oh and Harry Potter of course!
We enjoyed finding our about the cities selected by our partners schools and next we headed off for lunch.
We enjoyed a traditional Croatian meal which was like a soup with chicken. Afterwards we all walked out of the school, across the street and we were met by a local tour guide who took us around Pozega. The weather was beautiful and we were glad to pop in and out of the buildings for an occasional cool down! We visited the cathedral, saw where the Bishop lives and took in the traditional yet striking architecture. After a couple of hours the tour finished and we headed back with our hosts. In the evening the girls enjoyed a pizza out in the town square and afterwards headed to the delicious ice cream parlour for a tasty dessert.