Croatia - Day 2
Croatia - Day 2
13 October 2019 (by admin)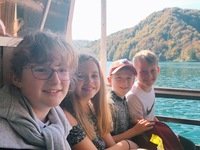 We began the day with a bowl of cereal. Ellie and Julia were up and ready to go but the boys needed an early morning wake up call. We met Mario (our driver) and his wife downstairs and headed off towards the national park called Plitvicka. It took about two hours to get there but it was definitely worth the wait.
As we entered the park we were faced with a towering waterfall! We snaked our way down the track to the bottom of the valley and began walking along the wooden concourse. We stopped off at various points to take pictures and enjoy the view. The water was so clear we could see the hundreds of fish swimming around.
After about 2 miles of walking we got on a boat and headed along the lake. Next we walked a little way to find some more waterfalls. After which we had a short boat ride to gate 2 and headed back towards the car along the top path looking down on the valley. By the time we reached the car park we had walked 4.4 miles! The scenery was so spectacular.
We jumped back in the van and quickly ate our sandwiches. The road back to Zagreb was windy but we were treated to an ice cream after about an hour which broke up the journey.
Eventually we made it to Pozega and were met by the Croatian team and our host families. Tomorrow we have our welcome celebration to look forward to. That's the latest news from sunny Croatia.