Croatia Blog - Day 1
Croatia Blog - Day 1
12 October 2019 (by admin)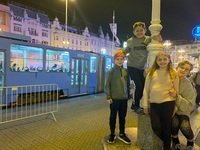 We arrived at school with our families ready for a Croatian adventure. Soon, we gave an emotional goodbye to our parents and jumped in the minivan for a 2 hour car journey (during which, we may have gone through about 2 bags of sweets and a box of Pringles) to Heathrow airport. Then we checked in and headed through security (Ellie and Mr Dean had a hard time getting through) but fortunately we all got through safe and sound, well just about. Our next activity was a very nice lunch at a posh restaurant in Heathrow consisting of pizzas and risotto for Mr Dean. After a few delays we sat down at our gate for a bit and soon got through to the tunnel. In the tunnel we found great excitement as we thought it was going to fall down.
Once we got on the plane we found our seats we took a seat not knowing that it was these seats that would give us great views from a high 11 thousand feet up in the sky some of our amazing views were the peaks of the Italian Alps and wispy white clouds and more cloud and unfortunately even more clouds. After a while, we had our first sighting of land for about 1.5 hours and within ten minutes we had landed. As we got off the plane, we made it through passport control and got to get our suitcases back. After that, we went outside to find our taxi, when the taxi came we found out that it was a very smart black Mercedes Benz and we were amazed, the drive to the apartments only took 20 minutes. It was on the way that we realised that the drivers seat was on the left hand side and Mr Dean wasn't actually driving.
When we got to the apartments we didn't expect the rooms to be as nice as they were. We dumped out bags and headed out to explore Zagreb. We were only 5 minutes from the centre and another 10 minutes on to the Cathedral. We picked up a bite to eat and then headed back to the apartment.
We were all very tired but excited to be in Croatia.