Poland - Day 6 Blog
Poland - Day 6 Blog
24 May 2019 (by admin)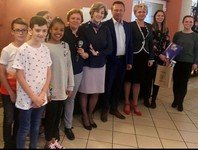 Friday
It was an early start for us today. After saying goodbye to our host families and thanking them for the generous gifts they'd given, we set off for the airport. We went to Costa for breakfast and did some last minute souvenir shopping before checking in.
It has been a fabulous week and we feel fortunate to have had this opportunity. Here are some quotes from the children:
"My favourite part of the week was going to the gold mine, especially the labyrinth of fear when the others got scared. I got on well with Mateusz and Maciek; it was fun to play computer games with them," commented Tyler.

"The farewell celebration was amazing. We got to play tag outside with the children from Spain. My host family were so kind and caring - they gave me lots of food and presents," reported Louis.
"I really liked going to the shopping mall on a Monday and Thursday because everything was cheap and there were massage chairs. I also loved searching for gold and diamonds at the mine and the giant hamster wheel was fantastic!" said Tehya.
"I'm so happy I came in this trip. I loved the dancing at the farewell party - we learned a traditional Polish dance. It was also great to go bowling with everyone on Tuesday night, especially when we played tag outside the bowling alley," commented Vi.
A big thank you to Miss Coldrick and Miss Thomas for supporting the pupils so well during their Erasmus+ adventure.
Next stop...Croatia!