Poland - Day 5 Blog
Poland - Day 5 Blog
24 May 2019 (by admin)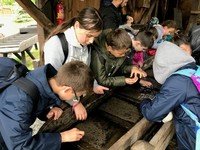 Thursday
Today has been a fun-filled day. We met at school to get the bus to Zloty Stok gold mine. A tour guide took us down a deep, dark tunnel and we were horrified when he warned us to look out for rats, bats and spiders. It was very damp and cold down in the gold mine. We saw a tunnel that led to the Czech Republic, an underground waterfall, bars of gold (we suspect they were fake) and some frightening looking characters in the labyrinth of fear. We took a rickety, fast train that led us back outside. Then it was time to search for diamonds and gold - everyone had great success at this but it was such hard work, we needed to sit down and recover with some delicious chocolate waffles.
Later, we had time to explore the medieval part of the park. We felt like hamsters as we had a go at running on a huge wheel that powered a water well. There were all sorts of medieval punishments to try out - our favourite was the chair with sharp spikes (it was actually quite comfortable). Once we'd had lunch, we were back on the bus to another huge shopping mall. Tehya bought shoes, Tyler bought chocolate and we all had ice cream. The high point of this part of the day was trying out the massage chairs.
That evening we had a farewell celebration with everyone involved in the Erasmus project. We ate pizza, dumplings and cake (with sparklers on the top) and we were presented with more presents from the headteacher of our partner school. The evening ended with traditional Polish dancing which the girls joined in with enthusiastically. However, despite lots of persuasion from everyone there, the boys refused to dance!