Poland - Day 1 Blog
Poland - Day 1 Blog
22 May 2019 (by admin)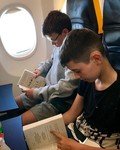 Sunday
We all met up at school feeling excited at the thought of visiting our partner school in Poland. Once we'd said goodbye to our families and Mr Dean, we set off to East Midlands airport.
We checked in, had a quick bite to eat at Frankie and Bennys then it was time to board. We spent most of the flight reading our books and eating snacks.
Before long, we landed at Wroclaw airport. By the time we were picked up by Ewa, the Polish teacher, and arrived at our hotel it was almost midnight. We were all ready for our beds and a good night's sleep, but sadly that did not happen. Tehya and Vi got locked inside their room (actually they weren't locked in, they were just using the wrong key - but we didn't realise this until later) so Miss Coldrick had to climb through their window to rescue them. It was all rather exciting but it meant that it was very late before we got to bed.