Charity Toy Sale
Charity Toy Sale
5 April 2019 (by admin)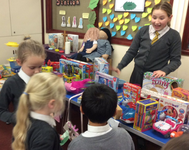 A big thank you to Miss Gent, Rafi, Jack W and the Academy Council for running the recent toy sale to raise funds for Gloucester City Mission and iReach Africa.
£80 was raised for each charity, thank you for your help and support.
Over £200 was raised for Comic Relief a couple of Fridays ago. Your generosity and support is much appreciated.