Lithuania Blog - Day 6
Lithuania Blog - Day 6
15 March 2019 (by admin)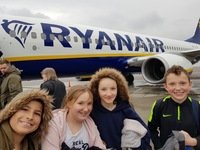 Day 6
Today we were up early as usual and went to the school, where we said an emotional farewell to our host families. We had to have one more lesson as the teachers were going to join us at 9am. Next we popped into a classroom to collect our bags.Soon after the teachers all arrived and we said our final farewells. We jumped into the school minibus and travelled to the airport; as we were early, Arlo, Max, Hattie and Lottie went to a cafe, which looked just like a jungle, the unfortunate teachers had to stay with the luggage while they planned our activity.
We decided to catch a taxi to Vilnius to look around the rebuilt Duke's palace which was next to the cathedral and was rebuilt between 2002 and 2017. We dropped our bags off in a big locked cage and started our tour. We saw lots of great items such as: weapons, furniture and ancient maps of Lithuania, which would've been in use around 1000 years ago, my favourite part was when we got to go up hundreds of stairs to reach the top of the palace and saw a brilliant view of Vilnius. After about 2 hours we headed over the road to the tourist information centre where we left our bags while we wandered into the Old Town to find a place to have a bite to eat.
(Arlo)
Eventually, after looking in a few places, we decided upon a little bakery called Crustun and ordered some food. Lottie had a vegetable lattice and a water, Max had water, Arlo and I had a croissant and a Coca Cola. When we had finished are snacks, we walked back to tourist information centre and collected our luggage. We waited outside for a while for our taxis to arrive.
After a 20 minute drive back to the airport we went and checked our suitcases in. Next we went through security and this time two people got stopped! Can you guess who it was this time? Mrs Trotman and Max! Once again Mrs Trotman took her boots off and it still beeped as she went through the scanner! The boys had forgotten to not have liquids in their hand luggage and so they had to watch as the security guard picked out their large shower gel containers and put them in the bin. When we finally got passed security we entered the shopping section and some of us brought some more gifts.
Soon it was time to go to the gate and Mr Dean waited in line while the rest of us sat down for a short rest. Now that brings me to now where we are now...on the plane and we only have about 40 minutes left of our journey before we land in Birmingham.
(Hattie)
We arrived back in Highnam at just after 8pm to be welcomed back by families. We had a lovely time in Lithuania and have so many memories from our great trip. Thank you to all who have followed our blog this week! Next stop Poland.