Lithuania Blog - Day 5
Lithuania Blog - Day 5
15 March 2019 (by admin)
News from our Erasmus Project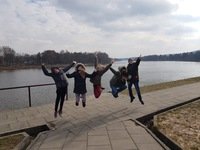 Day 5
Again we had another early start and had to be at school ready for lessons to start at 8.00am. The girls enjoyed an art lesson and boys had an English lesson. "It was tricky to understand as the teacher spoke Lithuanian throughout the lesson," said Arlo.
Soon the teachers arrived and we were lucky enough to go and meet the Mayor of this city and sit in the official meeting room. We received chocolates from the Mayor and Minister of Education. We had fun speaking into the microphones so everyone could hear. On returning to school we were taken on a tour and saw some of their classrooms. Their gymnasium was particularly impressive!
After a short break the children presented their work from Tuesday's lessons. Each country had created a robot using paint and also wrote a story to accompany their robot. As you can expect our robot story was the most abstract with a monkey robot and a super power but it was presented well by the team. Each school did a really good job.
Next we headed out for a walk into the town and down to the river, it is the largest river n Lithuania. Once back at school we had our lunch in the canteen.
Excitingly, our story will be continued on the rest of our European visits, beginning with Poland in May. Later in the afternoon we built robots and tried to make them look like our robots from our stories. Before the end of the day, we had a leaving celebration with all the countries, host children and parents along with teachers from the school. We all recieved certificates and gifts from the head teacher and Minister of Education. It was a wonderful celebration with music, games, dancing and a fashion show! Eventually we set off for one last night with our host families. This will not be goodbye but the start of a new international friendship.