Lithuania Blog - Day 4
Lithuania Blog - Day 4
13 March 2019 (by admin)
Update from our Erasmus project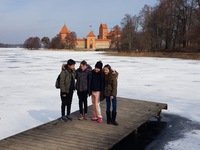 BREAKING NEWS - Max has changed his jacket this morning!

This morning we woke even much earlier than normal as we had a busy day ahead. We had to get the bus and then we picked up the teachers on route to our destination. After a long journey we arrived at the chocolate factory in Trakai. We had to wear aprons and stylish hair nets! In the factory we watched the demonstration of how to temper and make chocolate rain. Lottie and Hattie won a prize for their answers about chocolate. We then made our own chocolates using; marzipan, dried fruit, sprinkles, nuts, melted chocolate and Florentine biscuits. These were put in the fridge whilst we looked around the chocolate museum. In the museum all the exhibits were made out of chocolate! There was a life size jaguar made from over 100kg of chocolate. Afterwards, everyone spent some of their money in the shop. After our spending spree, we collected our choclates and bagged them up to bring home. To cool down we walked next to a beautiful frozen lake and saw the castle of Trakai. We had a look in a few shops selling hand made souvenirs. Finally we arrived for a traditional lunch in a wooden cabin. Lunch had mixed reviews from all of us. It was a chicken soup and traditional karaites (a pasty with a chicken or spinach and cheese filling). Mr Dean even ended up with a goody bag from the restaurant to keep him going during the afternoon!

During the afternoon we had a guided tour around Vilnius looking at some of the iconic buildings; cathedral, Gates of Dawn, churches and the palace. We did a bit more souvenir shopping and then boarded the bus and headed back to for our host families. Lottie said "I had a great day" and Hattie "enjoyed our free time together when we enjoyed a hot chocolate". Max was very proud of his chocolates but all said the chocolate factory was their favourite part of the day!