Lithuania Blog - Day 3
Lithuania Blog - Day 3
13 March 2019 (by admin)
Updates from our Erasmus Project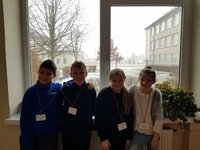 Day 3
We arrived at school to be greeted by the headteacher and a variety of school pupils dressed in traditional Lithuanian outfits. On our way into the conference room we were able to enjoy some Lithuanian snacks and we settled down to enjoy the opening ceremony.
Pupils shared in a variety of ways: singing, playing musical instruments and greeting the Erasmus delegates. After a short break each school presented information about a famous author the pupils had been researching. For the United Kingdom it was about WIlliam Shakespeare. The pupils all shared superbly and afterwards we were able to give and receive a few gifts from the different countries.
After lunch in the school canteen we took part in two different projects. The pupils began a project about robots using the computers and the teachers shared computing updates from their schools. Mrs Trotman shared a number of examples of the learning experiences of Highnam pupils.
Afterwards the pupils returned to their host families and the teachers began to plan the next trip which is to Poland in May.