Lithuania Blog - Day 1
Lithuania Blog - Day 1
11 March 2019 (by admin)
News from our Erasmus Project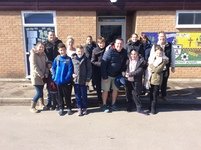 Lithuania Day 1 - Sunday 10th March 2019
(Arlo) This morning I woke up early because I was really excited about our trip to Lithuania. I had already packed my bags so I was ready to meet the others at 11:30am. Even though I live the closest to the school I was the last one there!
We all put our bags in the back of the taxi; then said an emotional farewell to our families. Fortunately, there was a little time to have a quick photo before we headed off. We played top trumps in the back of the minibus and settled to our trip to Luton airport.
(Max) We stopped at Beaconfield services. We were there around half an hour (30 mins), ate are lunch (packed lunch) and set back off to Luton airport. We then were in the van for about 40 minutes although it felt like a short time. It wasn't long before we saw the first plane in front of us, we instantly new we were close.
A few minutes later we got to Luton airport, we wheeled our luggage round to the terminal and we took a quick selfie (Max, Lottie, Hattie and Arlo). Next we dropped our bags off and headed to security. It was so funny when Mrs Trotman went through the scanning machine it make a really faint beeping sound, so Mrs Trotman had to go off to the side, take off her black ankle boots and shown us her famous rainbow stripy socks and we all started to giggle continuously. After that, we all went and tried to find a place to sit and after a while we did.
(Hattie) Soon after Mrs Trotman and the girls went to a few shops such as Boots, duty free and W.H Smith. Afterwards we went back to where we put most of our bags and watched the boys (Arlo, Max and Mr Dean) go to WH Smith to get a snack for the plane then afterwards we went to get our snacks. We enjoyed a quick FaceTime with Miss Coldrick whilst we waited for which gate we would be boarding from.
(Lottie) After we'd sorted our bags out we then went down to our gate, which was number 15, and waited to get onto our plane. After a slight delay (the plane wasn't there yet) we boarded the plane and took our seats. After the take off we watched out of the window as the plane followed the River Thames along to the North Sea and off over Europe.
We settled down for the rest of the flight - a little more wearier than we were at the start of the day.