Great Cross Country Result!
Great Cross Country Result!
5 February 2019 (by admin)
News from the latest cross country race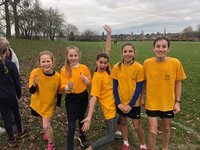 On Thursday the 24th January, many pupils visited Newent School to take part in a cross-country race. If you finished in the top ten you qualified for the next round which would mean representing the Forest of Dean in the county race.
Highnam pupils had a great time and a number qualified for the team...9 in total! For those who qualified they will now take part in the county race on Saturday 2nd March at St. Edwards Preparatory School in Cheltenham. If any then finish in the top ten they would go onto English nationals in Loughborough, Leicestershire and would be representing Gloucestershire. We would like to thank Miss Owen for coaching and supporting us, and to all parents who came along to support or helped take us to the event.
Written by Phoebe and Martha