Young Voices Hit the Right Note!
Young Voices Hit the Right Note!
23 January 2019 (by admin)
News from a great night of singing!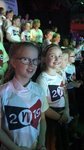 On Friday the 18th of January, a mixture of years 4, 5 and 6 went on an amazing singing trip to Young Voices which was held in Birmingham. This is one on the biggest primary school choirs in the world – 6600 children were involved in our concert! The children are required to learn a variety of songs and perform them in the arena. This was a very exciting opportunity for the children to see how the music industry works.
Each child was given a Young Voices t-shirt, a wrist band and a small torch. The artistic director (Andy Instone) taught us many dances to some of the songs along with his fantastic dance troop, Urban Strides. We also had four special guests: Beau Dermott, Tony Hadley, Vula Malinga and Connie Talbot. The finale song was particularly popular – it was a Greatest Showman medley!
A big thank you to all the teachers who took us and to Miss Coldrick for running the club where we learnt all our songs.
By Lucia and Isabelle H