Year 6 Perform at Gloucester Cathedral
Year 6 Perform at Gloucester Cathedral
14 December 2018 (by admin)
News from the Meningitis Now Carol Service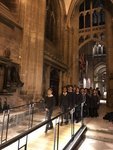 This term, our Year 6 pupils have been preparing for the opportunity to sing at Gloucester Cathedral with Miss Coldrick and Mrs Smith. The pupils sang four beautiful carols: O Holy Night, Who Would Imagine a King, Go Tell it on the Mountain and Joy to the World.
It was a privilege to support such a worthwhile charity as Meningitis Now. We were very impressed by the great array of music on show and the moving messages shared by the CEO of the trust and those family members affected by the illness.
Thank you to all who came along to hear the pupils sing in the Christmas concert, to Year 6 for singing so beautifully and to the staff who supported the pupils on the night.