We The Curious Trip
We The Curious Trip
21 November 2018 (by admin)
Year 5 and 6 pupils headed to Bristol for an action packed day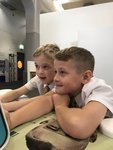 On the 14th November, Year Five and Six went to We The Curious (in Bristol). They had a great day and did many amazing things such as: weather reporting, human-size hamster wheel, planetarium (which was in 3D) and much more. There were lots of animation computers which you could use to make your own animation. Also, there was a small, compacted cylinder-like room, which was an example of when you were in your mum's womb. You could feel the breathing and the floor rotated very slowly.
After lunch we went to the Planetarium. It was all about space, planets and the solar system. We had the lucky chance that our slot was in 3D! We wore some of the best 3D glasses in the UK! Isabelle H rated it 10 out of 10. Isabelle O rated We The Curious (which used to be called @Bristol) 10 out of 10.
What a fun and educational day we had!
Written by: Megan, Lucia and Tehya