Education Sunday at Highnam Church
Education Sunday at Highnam Church
21 November 2018 (by admin)
News from the service on Sunday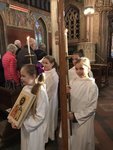 On Sunday the 18th November we woke up early to make our way to Highnam church to take part in a service. When we got there we put on some special white robes and Reverend Helen talked to us about the service. When everyone was there we did a quick run through before people started to arrive.
Belle carried the big important Bible while Isabelle and Hattie carried a tall gold lit candle each. As well as that Ellie carried a gold cross we held these up the air as we walked down the aisle. At the service Belle did the 1st reading Ellie did the 2nd and 3rd while Isabelle did the 4th and Hattie did the 5th. We sang 5 hymns from the hymnbook.
Rachel Howe (Director of Education from the Diocese) talked to the congregation about education, schools and the special relationship between Highnam Church of England Academy and Highnam Church. At the end of the service we went round to shake hands with people and say peace be with you. Reverend Helen shared some thoughts with those gathered at the end. During communion, Isabelle O gave out the bread and Hattie gave out the wine. At the end of the service after praying we were able to give money to some charities. After the service we were able to stay behind for a drink and biscuit. We were delighted to be part of the service and are looking forward to the Christingle service in December.
Written by Belle and Isabelle