Primary QuEST Remembrance Event
Primary QuEST Remembrance Event
12 November 2018 (by admin)
News from the Primary QuEST Remembrance Event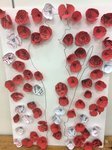 Pupils from the four Primary QuEST schools: Hartpury, Redmarley, Staunton and Corse and Highnam joined together in various locations to take part in a special Remembrance Event. All of our Reception pupils visited Redmarley Academy, pupils in Years 1 and 2 visited Hartpury, pupils in Years 3 and 4 went to Staunton and Corse and pupils in Years 5 and 6 joined together at Highnam.
Each grouping had been working on a special piece of work to share with the other pupils and once at the school the staff had prepared a variety of Remembrance events to take part in. At Highnam to end the time together we held a special Collective Worship where we heard from Mr and Mrs Tiko who are currently serving in the Armed Forces. At the end of this time we shared the work which had been produced during the day and held a minute silence.
A big thank you to all involved in organising the event from the administrators who arranged the coaches, to our catering teams for preparing the packed lunches and the various staff for preparing such engaging activities.
"We had a thoroughly enjoyable day: making new friends and taking part in various new activities. The day ended well with the visits from Mr and Mrs Tiko." Commented Hattie and Macauley.