Blasting off into Space
Blasting off into Space
10 October 2018 (by admin)
News from our Planetarium Visit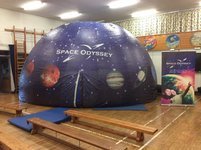 On Tuesday we welcomed back Simon from Space Odyssey and his mobile planetarium. The planetarium is used for presenting educational and entertaining shows about astronomy and the night sky. It has inside a large dome-shaped projection screen onto which scenes of stars, planets, and other celestial objects can be made to appear and move realistically to simulate the complex 'motions of the heavens'. It was a real treat for all the pupils in the school to spend time in the dome and to learn more about space.
It was another inspirational visit from Simon and some of us even ventured out in the evening to see the International Space Centre orbit the earth at 7:09pm!
"We loved going in the dome...the best bit was learning about the various star constellations!" commented George and Alannah in Year 5.