Storming Performance at County Cross Country Festival
Storming Performance at County Cross Country Festival
9 October 2018 (by admin)
An update from the Forest of Dean Team Race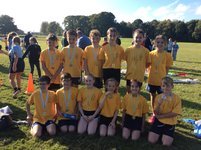 Congratulations to the girls and boys teams for their impressive running skills demonstrated at the Forest of Dean Cross Country Team Event. Last Thursday, a team of 6 boys and 6 girls, represented the school and were racing against 19 other local schools.
The girls were up first and performed superbly finishing with just 27 points and were crowned team winners. They received the gold medals from event organiser Alan Beard and his team of young leaders. Next up it was the boys go and this race was a lot tighter. However the boys scored any impressive 49 overall and finished in equal first place. This meant Highnam won the combined event overall following the impressive team results.
A special mention to Martha and Woody who both finished in first place in their respective races. A big thank you to the parents who helped to transport the pupils to the event and for all those family members who came along to cheer the teams on.