Wonderful Wilderness Adventure
Wonderful Wilderness Adventure
8 October 2018 (by admin)
News from the Year 4 mini-residential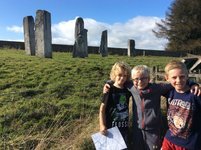 Last week our Year 4 class headed to the Wilderness Centre in the Forest of Dean for a 3 day mini residential. The pupils were very excited about the visit and the opportunity to try lots of new exciting activities. Whilst there we tried: climbing, crate stacking, tunnelling, archery, team games, orienteering, egg drop and a night walk. We had an amazing time away with our friends. Here are some of our highlights:
"My favourite activity was tunnelling" said Joseph excitedly, "because I had enjoyed the challenge of navigating through the tunnels in the dark. We also got to use head torches and a map."
"I loved the crate stacking because it was hard to climb, balance and work with a friend to get as high as we could!" commented Erin.