April Hits the Right Note!
April Hits the Right Note!
2 October 2018 (by admin)
News from a visit by singer / song writer April Shipton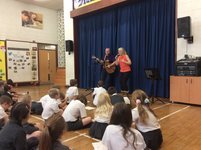 A big thank you to Mrs Trotman for organising a wonderful visit from April Shipton a local singer / song writer who came along to sing and run a song writing workshop for our pupils in Years 5 and 6. We got to see her latest song 'Journey on'. Perseverance was the key message which linked in brilliantly with our value for this term.
The song writer who worked with April on the song 'Journey On' tried to sum it up in one word, and came up with perseverance. Particularly, against the odds. My own story kind of epitomizes that message because it took me 55 years of writing songs before I got one played on the radio. It took perseverance and a lot of time and money, and there were times when I thought, is it worth it? But it's all had a purpose.
We had a great time with April and enjoyed listening to her sing and a big thank you to Doug for accompanying her on the guitar.