Olivia Production Hits the Right Note
Olivia Production Hits the Right Note
12 July 2018 (by admin)
News from the KS2 Production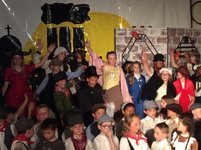 Olivia is a production written by Malcom Sircom and is set in the Victorian era. Olivia (the main protagonist played superbly by Lola) goes on many adventures to find out about her past whilst meeting many classic characters along the way, e.g. Mrs Dilber, Eliza Doolittle, Flower sellers and Sherlock Homes. Everyone taking part in Olivia has worked tremendously hard, especially the main characters on remembering their lines thanks to the teacher's hard work on putting the production together. The production has been one of the best yet at Highnam, Alice (Sherlock Holmes) and Emily (Doris flower seller) from year 6 commented:
"This play has been so much fun to be part of. Usually, I would never put myself forward like this but I am glad I did." Alice, also known as Sherlock Holmes.
"This play has been amazing, I have loved playing the part of Doris, one of the flower sellers, and I hope to be part of many other plays as I move onto secondary school!" Emily, also known as Doris.
We have loved being a part of this play and we hope you have enjoyed watching it as well. We also hope that all of juniors who have been a part of the production have enjoyed this play as well.
Written by Alice and Emily, Year 6