Young Leaders Blog
Young Leaders Blog
9 July 2018 (by admin)
Welcome to our Young Leaders Blog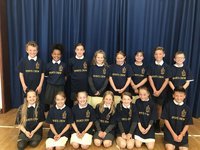 Our blog's will contain exciting news about what we've been doing in Young Leaders. We would like to give you a look about what our Young Leaders award is all about.
Young Leaders is built up of a group of Year 5 pupils; who you will meet throughout our blogs. At the end of Year 6 our group of Young Leaders will be awarded a Play Makers award- But before then we have a lot of work to do to prove we can take on the role as Young Leaders. The play maker award represents all the areas of the initiative -P (participants), A (area), C (communication) and E (equipment); which spells out PACE.
We hope that being a Young Leader will help build on our skills as a Leader and a role model in the school. The past few weeks we have gone through training with the guidance of Miss Phillips, helping us to make sure we were prepared for our first coaching session. We have been holding lunchtime clubs running engaging activities to Years 1 and 2.
Interview:
Gracie Holmes has answered some questions about our Young Leaders experience:
Gracie what made you apply to be a Young Leader?
"I applied to be a Young Leader because I wanted be seen as a role model to the younger children in the school. I think that this award will help me to build more confidence leading others and will also help me when I go to secondary school."
Gracie what is it like to be in Young Leaders?
It's great fun to teach younger pupils and be able to have the responsibility to lead the sessions as a group. Coaching can be challenging at times.
We hope you have enjoyed reading our first blog,
Written by Hattie & Katie