Terrific Three Counties Show
Terrific Three Counties Show
20 June 2018 (by admin)
News from our school trip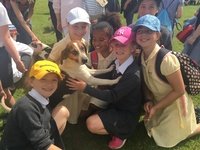 On Friday, pupils in Years 4-6 enjoyed the schools' day at the Three Counties Show, Malvern. Pupils enjoyed two workshops whilst they were there: one provided by Weston Power all about be safe around electricity and the other was called Chickens Out which was provided by the Poultry Club.
The pupils visited the animals, stalls and activities in small groups and them congregated back at the main arena for the horse jump off and the Red Devils acrobatic display. One of the other highlights was the opportunity to see the hounds...this made the trip for a number of Year 5 pupils!
A big thank you to all of our helpers and to Mark from the Three Counties Education team for providing us with the opportunity to attend.