Year 3 Archaeological Survey at St Oswalds
Year 3 Archaeological Survey at St Oswalds
8 June 2018 (by admin)
News from Year 3's trip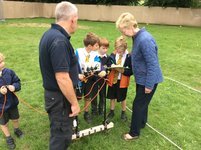 The pupils were very excited to be part of this experience. As soon as they arrived one group of pupils helped to undertake a type of geophysical survey called an electrical resistance survey. They were quickly taught the theory of how the survey works and then had a chance to use the equipment themselves. The equipment consists of a set of two probes that were driven gently into the ground – an electrical current passes between the probes and the level of resistance is recorded. These results, mapped in a grid across the site, which showed archaeological remains including walls and potentially other remains as well.
In addition, the pupils manually recorded the results on graph paper as the survey progressed. The pupils rotated though the geophysics activity in small numbers to enable all of the pupils to experience each of the tasks involved.
The Saxon Life part of the session included: Wattle and daub clay play, coin striking, textiles such as spinning and weaving, dressing up, an Aethelflaed puppet, handling objects from the museum, runic/translation games and other assorted things from the resource pack, papier mache and jewellery decoration.
Whilst we were there the TV crews from Points West turned up and so we may even make it on to the news!
A big thank you to Pat from Pelican Art who coordinated the event and the staff and parent helpers who supported the pupils on this trip. "10/10" said Joseph on his way out of school "I'd like to go again over the weekend!"