Oakridge Win Key Stage Two Sports Day
Oakridge Win Key Stage Two Sports Day
8 June 2018 (by admin)
News from the 2018 Sports Day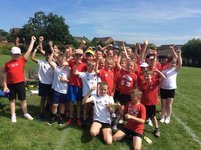 Parents, grandparents and family friends joined us for our annual sports day on Wednesday afternoon. The pupils of Highnam Academy participated in their designated houses. The teams assembled ready on the school field and were greeted by a number of supporters. It was great to see all the Key Stage Two pupils taking part in the various events - sprinting, skipping, sack racing and much more.
The afternoon ran very smoothly, thanks to the Key Stage Two staff and parent volunteers and the result was very close...Congratulations to Oakridge house who won by 5 points from Maidenhall. Wetherleigh house was third and Lassington fourth.
The competitors were supported throughout the afternoon by a fantastic crowd and we are all looking forward to the Key Stage One Sports Day later in the term..