Year 6 Hit The Slopes!
Year 6 Hit The Slopes!
16 May 2017 (by admin)
Year 6 enjoyed a day trying a new skill at Gloucester Ski Centre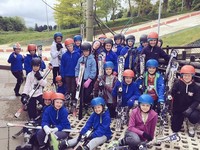 At the end of a busy week, Highnam Year 6 pupils were surprised with a special trip to Gloucester Ski Slope. Every year we try to give our Year 6 pupils an opportunity to try something new and this year they overwhelmingly voted for a skiing experience. For some pupils who hadn't skied before the challenge was to stand up and try and head down the beginner slope in a controlled fashion. For pupils who had skied before they had the opportunity to head to level 4 on the ski lift and ski down the slope. The pupils enjoyed a tasty chocolate brownie at lunchtime, thanks to Miss Owen, and then headed back out on the slopes for their next lesson. The afternoon ended with a fun session of tubing. Our thanks to Miss Read, Mrs Harris and our great team of parent helpers. It was lovely to hear the pupils so enthused about their visit: "Just a short note to say thank you for the Y6 ski trip on Friday. It was a lovely opportunity for them all. My boys had a fantastic time and haven't stopped talking about it since!"