To infinity and Beyond!
To infinity and Beyond!
4 May 2017 (by admin)
Pupils in Year 5 explored our solar system outside on the field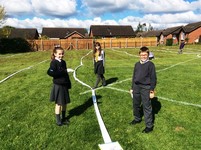 This term pupils in Year 5 are learning about the earth, moon and sun in Science. We started to learn about the solar system by recreating it. We took our learning outside to look at the size of the planets and the distances between them. Using toilet paper we mapped out the distances between the planets - we couldn't believe the measurements we were looking at! Very big numbers! We planned a scaled down version of the distances and our next task is to scale down the planets' diameters for a big art project.