The Big Pedal is back!
The Big Pedal is back!
21 March 2017 (by admin)
Every year pupils of Highnam Academy join thousands of pupils across the United Kingdom in a two week challenge to cycle and scoot to school.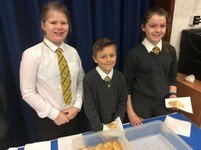 The Big Pedal began with a special Bikers' Breakfast yesterday which was organised by our wonderful Junior Travel Ambassadors. CaterCater kindly provided pupils with a choice of cereal or a mini croissant and warm toast was also on offer. Over 100 pupils were in school early to enjoy the tasty breakfast. The competition runs for two weeks and each school is updated their school data to the Big Pedal website. The percentage of pupils and those who ride along with them is then worked out and compared to school locally and nationally. You can make a difference by cycling or scooting to school. If younger siblings and family members join in they get added to the overall school total. Let's get on our bikes!