The Wilderness Visit for Year 4
The Wilderness Visit for Year 4
12 October 2020 (by admin)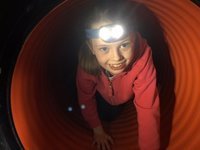 Sadly, pupils in Year 4 were unable to have a 'full' residential due to the current restrictions about overnight stays for schools however, they did enjoy an extended visit last week! The pupils and staff were met by the centre team and enjoyed a day of: orienteering, tunneling, bush craft and team building games. A big thank you to Mrs Carpenter and the whole year four team for supporting the pupils on the day.
A parent emailed the school to say:
Please thank Mrs Carpenter and staff very much for a super day at The Wilderness Centre yesterday. My daughter and friends said: "It was the best day ever".