Big Lottery Grant Award for Highnam
Highnam C of E Primary Academy are delighted to announce today that we have been successful in our bid to secure funding through The Big Lottery Fund.
We are pleased to confirm that we have received £10,000 towards our Physically Challenging Play Resource for the children of Highnam Academy and the local community groups who use our facilities. The funding has enabled us to prove a 1.2m high Triple Tower Unit. The towers are set into a new area of rubber shock-absorbing, safety surface providing confidence for the young children and encouraging greater risk-taking. The Triple Tower Unit will also offer new opportunities for imaginative and creative play and increase opportunities for co-operative play.
At Highnam we provide pupils with high quality learning opportunities and ensure the facilities we offer are of a similar standard. We are thrilled with our new play equipment but don't just take our word for it...here is what the children have to say!
"We love using our new equipment and have lots of fun at playtime."
Commented Lucy, Eliot and Ellie.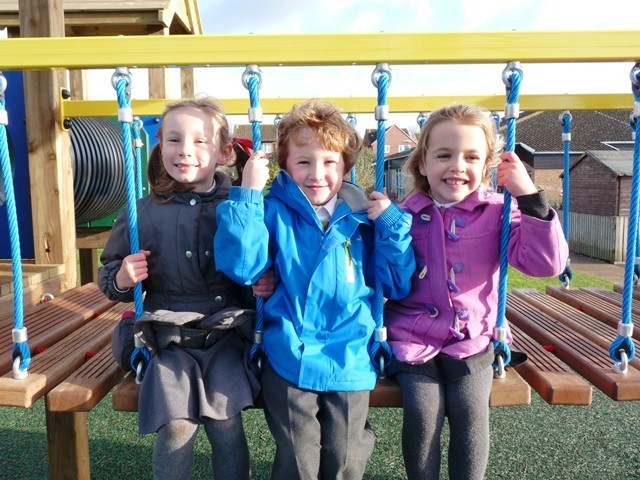 On the bridge - Lucy, Elliot and Ellie