Lithuania Blog - Day 2
Lithuania Blog - Day 2
11 March 2019 (by admin)
News from our Erasmus Project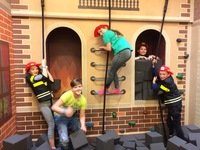 Day 2
We began the day with pancakes for breakfast - they were very good! Next up we headed to the school to pick up some pupils ready for our trip to Kaunas. It was about a 30 minute coach ride to the city. On the way we were given a lot of history about the area and the city. It was an important city and had a very old part to the town which was between two large rivers. We got off the bus and headed for the castle and old town. It was national Independence Day in Lithuania so there was no school and there was a march through the Old Town celebrating the day. We were given some time to explore and found a fantastic chocolate shop.
After sampling a few of the chocolates we headed off on the coach again to our lunch. It was in a traditional Lithuanian restaurant and we got to sample some of the traditional cuisine. Next we headed to a massive 'Mega' outdoor shopping centre where there was an educational centre called Curiosity. We spent two hours there exploring and learning. Before we headed in however we saw a very tall aquarium with sharks and other amazing fish in. Oh and we also had time for a quick shop and an ice cream!
Once we had finished our Curiosity experience we headed back to the bus. It was cold out and we'd needed our hats most of the day but it was good to snuggle into our seats for the journey back to the school. At the end of the day we visited out host families and planned to have an early night as we were all tired after the long journey and the walking tour from the morning. Tomorrow we head to school...